Right now seems to be a season of flux for me. It looks like some changes are coming. For one, I'm taking a break right now from working on any novels. I am still writing daily using a writing prompt, and I hope to work on this blog a little more. But I will need to make some decisions about what direction I want to go with my career soon.
As a Christian, I want to follow God's path for my life. I want to  use the gifts He's given me for His good, not mine. Most of the time, I feel like I just need to get out of the way and quit overthinking everything.  There are some very simple mantras that stick in my head, like "Do the Work." Or "Take Action." Both of those are great and exactly what I need to do. But when you're lost on which direction to go, it's easy to just stop. And that doesn't feel right either.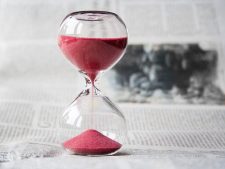 Sometimes, though, it's okay to stop. Take a break. Just breathe for a moment. And that's where the title of this blog comes in: Do you have four minutes?
Recently at church, one of our teaching pastors, Ryan Leak (@ryanleak), talked about our prayer life. In this fast-paced world, we're not always stopping to pray, and most certainly aren't taking time out for quiet time with the Lord. We all know the passage in Psalm 46 that says "Be Still and know that I am God." Yet most of us aren't still. So, Ryan suggested an experiment. For four minutes, you sit still. Set a timer (because yes, it feels strange at first). But quiet yourself. You can start out praying, but God knows our hearts. He hears from us enough, but do we take time to hear from Him? So be still, for four minutes. And absorb the silence.
Now, you may not hear the booming voice of God. You may not hear anything. The answers may not come, but for four minutes, you focus on God. You quiet your heart. Maybe you find peace.
As I'm struggling in this season where I'm purposely taking a break, I'm going to try to be still for four minutes a day. Will I find the answers I need? Will my path suddenly appear before me? I don't know. But I do know that for four minutes a day, I will revel in the quiet. I will settle my racing thoughts. I will have a peaceful moment. Maybe the answers will come, maybe they won't. But I do know they certainly won't come unless I stop long enough to listen. I'm setting aside four minutes a day to listen.
What about you? Do you have four minutes?