The Winter Olympics are happening, and yes, I'm watching.  I love the inspiring and uplifting stories, the competition, patriotic pride and more.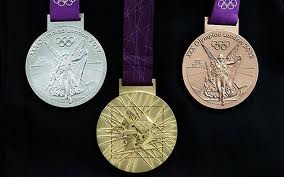 To see athletes achieve their lifelong goals along side those who are just happy to be in Sochi right now is heartwarming.  Remember the young American skier, Heidi Kloser, who was injured in a training run before opening ceremonies, and hobbled into the stadium on crutches? When she was injured, her first question was "Am I still an Olympian?"
During opening ceremonies, the commentators talked about another athlete, I believe the only athlete from his particular country,  who knew he would come in dead last his event, but it didn't matter. He was just happy to be there.
So while we are inspired by the medalists and all they've accomplished, are these two athletes  I've mentioned any less inspiring?  I love that these two (and so many others) are happy to be Olympians, to have strived, trained, and worked to make it that far and to experience this international competition that's unlike anything else.
Most of us won't make such a big impact on an international, or even national stage in our lives.  But I believe we can be an inspiration in our own little world.  What can we do for others around us — in our city, neighborhood, at our jobs, or heck, even in our own home?  Are we striving to make a difference? Are we shining God's light and inspiring someone else no matter where we are?
What can you do today to shine?