I've recently joined a group called Five Minute Friday (@5minutefriday), where we're sent a one word writing prompt.The idea is to write for 5 minutes — little editing. It makes us write (and I definitely need that!). Today the prompt is "ocean". So, here's my pretty much unedited, stream-of-conciousness writing about "ocean." Thanks for indulging me!
The ocean is vast, mysterious and many times, lovely. But it can be cold as often as it is warm. It can be dark as often as it is clear and blue.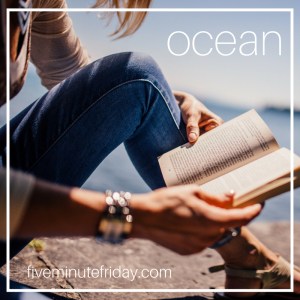 There can be an ocean between us, or we can cry enough tears to fill the ocean, or feel grief as deep as the ocean.
How interesting to think about the many contrasting images you can conjur up while thinking about the ocean. All the way from snorkeling or diving in the crystal clear waters of the Mediterranean to looking a the murky depths of the Atlantic and recalling how much the movie "Jaws" still impacts your swimming decisions by the sea.
I have one friend who is happiest at the beach. She doesn't live on the water full-time, but I certainly can imagine her doing just that. As for me, I used to love the beach like that. But now, when I think of the beach, I think of chubby thighs, sunburns and too much humidity. And yes, "Jaws" impacted me, along with pinching crabs and stinging jelly fish. So, the ocean no longer holds the same appeal.
The mountains are now my sanctuary. However, I can't ever deny the mysterious lure and contrasting beauty that comprises the ocean…as long as I stay on the shore. 🙂