If you're a book lover like I am, then you'll enjoy this new project I'm doing with my friend Rebecca Reed. It's Rebecca and Rebecca: Reading Writing Reviewing. Rebecca and I read books, then review them, then talk to the author about them! Our latest review and interview is for The Debutante's Code by Erica Vetsch.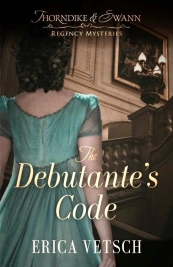 The Debutante's Code is a regency historical mystery described as Jane Austen meets Sherlock Holmes. This isn't my usual genre, but I have to say that I loved this book. I'm also privileged to know Erica personally, and she is so much fun.
If you're interested in watching the you tube interview, click here.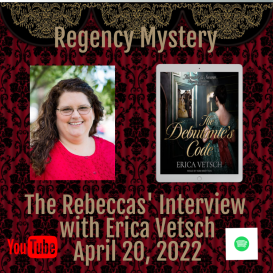 If you want to see the review of the book, click here.
Check out more about Rebecca and Rebecca on our website at rebeccaandrebecca.com, or click on this You Tube link for all of our videos. This is a new project for us, so there's a lot more to come.
Our next review and interview will be for Tacos for Two by Betsy St. Amant. So, I hope you'll join us in May and June.