2020 has been an unexpected year. No one could've predicted a worldwide pandemic, or riots, or the general unease and discontent of today's world. It's a frightening time overall, isn't it?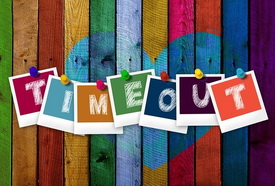 Maybe we all need a time-out!
We've all had times that have been scary and times when we are overwhelmed with fear or anxiety. So, how do you find a way through a tough time, besides just gutting it out?
Recently a verse in Psalms from chapter 131, verse 2, struck me. It says, "I have calmed and quieted myself" (NLT). Or if you prefer NIV, "I have stilled and quieted my soul."
On their own, those may not seem like life-altering, earth-shattering words that pierce to the depths of your heart. But they leap out at me as wise advice. Here's why:
When I was 19 years old, back in my wicked youth, I had a boyfriend with a motorcycle. While returning from a wonderful picnic in the mountains with friends to celebrate my 20th birthday a few days early, we got into an accident. A pick-up truck turned right in front of us and we had no where to go except into the side of that truck. My right side hit the truck, bounced off, and my left side hit the pavement.
Ouch!
While I was waiting to be taken to x-ray, then surgery, for an obvious broken leg and a banged up shoulder, another patient was brought into the emergency room. I don't remember what was wrong with her, but I do remember that she was hysterical! Not funny hysterical. She was terrified. She wouldn't stop screaming. Her fear had completely overwhelmed her and the panic took over. I distinctly remember the doctors trying to calm her and saying they couldn't help her unless she settled down. I even remember wanting to shout at her to be quiet so she could get help! Her hysteria was delaying treatment and relief.
When we panic, I think we cease to make smart decisions. I know it's easy to feel overwhelmed. You can either be frozen in fear and not able to move at all, or you can scream hysterically, and prevent any action to propel you forward. Either way, you're stuck in the same place.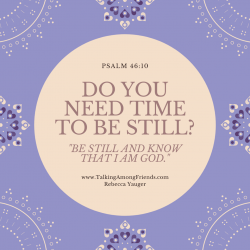 When I think about Psalm 131:2 – "I have calmed and quieted myself", I think that means we take a breath. We breathe in God's spirit and strength. As Psalm 46:10 (CSB) says " Stop fighting and know that I am God."  You'll recognize that verse as "Be still and know that I am God."
We need to stop fighting the fear. We can acknowledge it, but we have to take a step forward into the next phase or we're stuck. Fear does a good job of stopping us in our tracks. It can blind us with panic, so we can't see what steps we need to take next.
I find that being still, calming myself, taking a time-out to breathe in God's presence, can propel me to get through the tough stuff, or at least take that first baby step through the fear to get to the other side.
I'm listening to the message of these verses:  To be calm and quiet, to be still and stop fighting. And to KNOW that He is God and has all of this under control.
So, what's stopping you these days? Do you need a time-out to talk with God?