The world today is divided. I think we all recognize that.
The "us" versus "them" mentality is thriving. But let's dig down a little deeper: define who is us and who is them? Who are we divided against?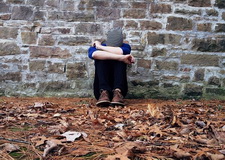 There is so much division fueled by anger, that it's difficult to let our voice be heard, but it's also difficult to truly listen to someone else, to hear their point of view over all of the shouting and the anger. I want to listen and understand others, but is that even possible right now?
So many questions. And not many answers.
What can we do?
First, let's be aware of any walls we're building to keep out others. Who are we keeping out? Go back to "who is us" and "who is them." Just because someone believes differently than you, is that a reason to shut them out? Are we doing this, building divides, without even realizing it? I think it's become that prevalent in society so we don't even get that we're making the division worse.
Let's start nationally: I'm a citizen of the United States of America. If friends or family have a different political affiliation than I do, does that mean I have to build a dividing wall between us? Absolutely not! Whether or not I voted for our current president is not relevant at this point. I want whoever is president of the United States to succeed, to do what is best for our country. We are called to pray for our leaders, and we need to do that, whether we agree with them or not.
Now, what about closer to home? I'm sure you've heard of divisions within churches, and
among people of the same faith. That makes me sad. As a Christian, we all believe in the same God. We all have Bibles, so it should be simple to love one another and treat each other with kindness. Yet somehow it isn't.
And with our friends and neighbors? Yes, there are times I hold a vastly different opinion than even my closest friends. Does that mean I have to build a dividing wall between "us" and "them?" Really? I don't think so.
1 Timothy 4:12 (NLT) says, "Be an example to all believers in what you say, in the way you
live, in your love, your faith, and your purity." The NIV translation says "…set an example for the believers in speech, in life, in love, in faith and in purity."
The book of 1 Timothy was written by the apostle Paul to Timothy, who was a young leader in
the church. Paul wanted to encourage him. When this scripture says to be an example to all believers, do you really think Paul meant to ignore everyone else?
No, I think we're called to tear down the dividing walls, whether we purposefully built them or not. I want to be an example to others in the way I live my life, in my hope and faith.
However, just because someone doesn't believe the way I do, doesn't mean I ignore them. We should listen to them, listen to their point of view, and learn things we may not have known before. If we look at things from their perspective, don't you think we'll find more common ground than not?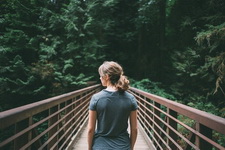 As a Christian, I need to be cautious not to put myself in a bubble with other believers and divide myself from those who don't believe as I do. I think it's more important to reach out, especially this day in age, and find the common ground. We need to go back to the principle of agreeing to disagree. In the long run, we're all citizens of the world. We all long to have good lives and be part of a community of neighbors, friends and family. Despite our differences, don't you think it's time to really listen to one another….not argue, not shout in anger…but have real conversation? It's time to tear down the walls that divide us. In reality, there's no "them" – there's just us. We're all in this life together, so I don't think we can truly afford to be divided from one another.
Questions for you: Have you built a wall dividing yourself from others without realizing it?
How do we bridge the gap with others who may have a different perspective than we do?